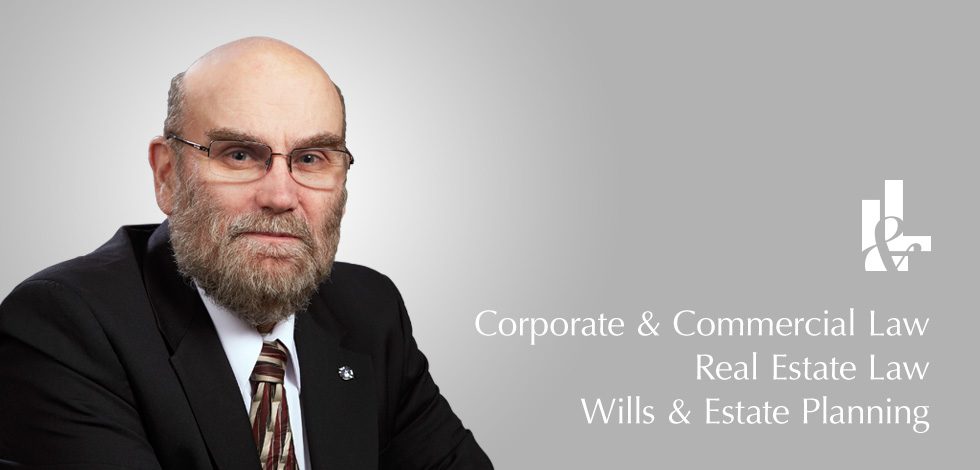 Robert J. Lefebvre
Professional Practice
Real property law, residential and commercial land acquisitions and sales, related litigation, tax and family law issues. Title Insurance. Mortgage law.
First time home buyers. Mortgage collection. Your second home.
Business law, corporate, commercial, credit, lending and recovery and related litigation and tax related family law issues. Credit Union Law. When to use shareholders agreements. When to use marriage contracts.
Wills and Trusts, Estates and related litigation, tax and family law issues, the responsible and irresponsible power of attorney. Henson Trusts. ODSP management, Disability Tax Savings Plans. Charitable trusts. ODSP Trustees, Non testamentary ODSP trusts. When to use multiple Wills. When to use family, alter-ego, spousal and creditor protection trusts. Probate planning, joint accounts, named beneficiary rights.
Dealing with estate trustees who refuse to act in a transparent manner. Serving as an estate trustee in difficult situations; complex assets and difficult heirs, non heirs who think they were overlooked, cheated or entitled. Passing of accounts. Problems of Guardians managing money for child accident victims.
Education
Law School: University of Ottawa LL.B 74-77
Undergraduate: University of Toronto, St. Michael's College 72-74
High School: St. Johns College, Brantford, Ontario 68-72
Professional Credits
Small Claims Court Deputy Judge, appointed 1994, 1997, 2000, 2003, 2007, 2010 (3 year terms)
Brant County Law Association 1997-1998: Secretary 1989-1991, Vice President 1996, President 1999
Ontario Children's Counsel Panel 1997-2000
Member, Ontario Deputy Judges Association
Osgoode Hall Law School "The Essential Curriculum in Trusts Wills and Estates" Attendee 2002
Community Credits
Past President, Kiwanis Club of Brantford 1985-86; also 2007-2008
Past President, Brantford and District Credit Union Chapter 1980
Past Lieutenant Governor, Kiwanis International District EC&C 5W 1996
President Elect, Kiwanis Club of Brantford, 2004-05 administrative year
Chairman, Birthright of Brantford 1990-2004
Kiwanian of the Year 2011
Family Interests
Married to the former C. Ann Stuart
Bob and Ann are the parents of Andy (Andrew Robert) Lefebvre, Eric Lefebvre and Ian Stuart Lefebvre
Recreational Activities
Gardening
Home Renovation
Garden Railroading
Computers
Tel: 519 756 3350 ext.278