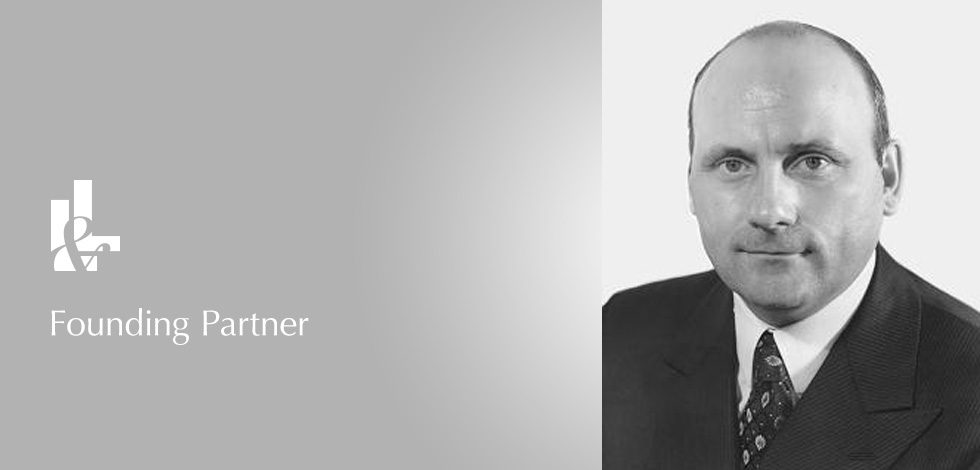 Kenneth P. Lefebvre
Kenneth Lefebvre passed away on June 16th 2018, at 93.
Kenneth Patrick Lefebvre, BA LLB QC, founding partner of Lefebvre & Lefebvre, born in 1925, was raised and schooled in Brantford, graduating from B.C.I. in 1942/43. Ken enlisted in the Royal Canadian Air Force and served overseas as a navigator. He returned home in 1945 enrolled at the University of Toronto, St. Mikes College. Ken graduated with his BA in 1948. He went on to study at Osgoode Hall and began practicing law in 1952.
In 1952, Ken and his brother, Marc, began the firm of Lefebvre & Lefebvre in the second floor suite of 29 George Street, Brantford. During that time Ken was a federal prosecutor for five years and maintained a practice of criminal, civil, corporate and estate law. He was appointed the first Regional Director of Legal Aid for Brant in 1967 and kept that position until retiring in 2002. Ken was appointed Queen's Counsel in 1975. Mr. Lefebvre retired from private practice in 1991.
Ken served as an alderman in the City of Brantford, Ward 2 for two terms, 1954 and 1955. As a member of the Knights of Columbus, Ken reached the rank of Navigator 4th degree. He was a member of many boards of directors and associations, including holding the position of the National President of the Prison Arts Foundation.
Ken was Chair of The Lorne and Elsie Hankinson Charitable Foundation Trust and a member of Probus. He and his wife, Mary (Henderson), were wed in 1957 and love to travel and enjoy the labours of working in their beautiful gardens at their residence in Brantford.