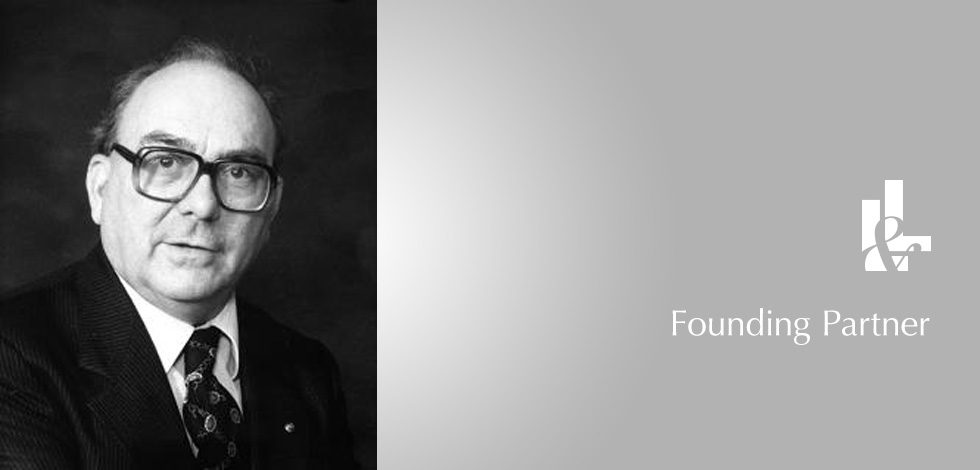 Marc E. Lefebvre
Marc Lefebvre passed away July 28th 2009
Marc Emile Lefebvre, BA LLB QC, founding partner of Lefebvre and Lefebvre, was born in Brantford in 1923, and graduated from B.C.I. in 1941. Marc immediately went overseas to serve in the Second World War, enlisting with the Royal Canadian Air Force, where he served as a navigator. Returning home in 1945, both he and his younger brother, Ken, then studied at the University of Toronto. Marc graduated with his BA in 1948. The brothers then enrolled in Law School at Osgoode Hall and Marc graduated and began practicing law in 1951. Later Marc was pleased to be presented with this LLB from Osgoode Hall, as were all past graduates of Ontario Law School programs.
In 1952 Marc and Ken began the partnership, Lefebvre & Lefebvre, opening their first law office upstairs at 29 George Street, Brantford. Marc practiced law for the better part of 49 years, retiring at the age of 75 in 1999. During that time he practiced mainly in estate, real estate and corporate law. As well as running his busy private practice, Mr. Lefebvre held the post of Small Claims Court Judge for 20 years.
Over the years Marc was a keen Kiwanian, serving as President of his local club and as Governor of The Eastern Canada and Caribbean District. He earned the Mel Osborne Fellowship Double Diamond and served on the Mel Osborne Board. Marc was a member of the Brantford Flying Club and held his private pilot's licence for 25 years. Marc also devoted many years to the Brantford School of Instrumental Music. While never learning to play a note, Marc honked on the horn he plays best as a director, chairman and president. Marc has served on the Board of Directors of innumerable clubs, associations, church groups and credit unions. Marc has lived with the attitude that a good businessman will always get his work done but must put forth the extra effort to contribute to his community as well.
Marc and his wife, Molly (Fitt), celebrated 62 years of marriage, together they raised ten children and have been blessed with numerous grandchildren and great-grandchildren.