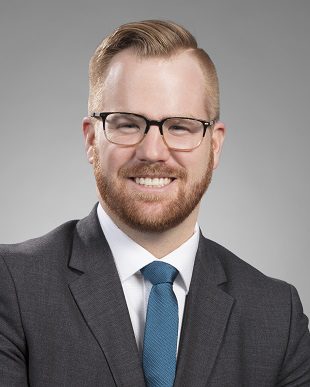 JESSE R. DOSTAL
Jesse's practice focuses on litigation and employment law. Jesse assists individuals and businesses navigate through difficult civil and commercial legal disputes, with a particular focus in wrongful dismissal, terminations and breach of contract. Jesse also assists individuals charged with criminal offences, and businesses facing regulatory proceedings. Jesse uses strong negotiation skills and creative dispute resolution techniques in order to resolve matters in a timely, cost-effective manner. However, when a client's objectives require a trial of hearing, he is ready and prepared to take a matter to court. Jesse has considerable trial experience, and has appeared in the Superior Court of Justice, Ontario Court of Justice, the Small Claims Court, Landlord and Tenant Board and the Human Rights Tribunal.
Jesse is currently the Vice President of the Brant Law Association. He was appointed to the Board in 2019 and also sits on the Social Committee.
Jesse is a graduate of the Canadian-American Dual Juris Doctor (J.D.) Program at the University of Ottawa and Michigan State University College of Law. Jesse received his American J.D. from Michigan State University College of Law in 2014, where he graduated cum laude, and his Canadian J.D. from the University of Ottawa in 2015. Prior to his legal studies, Jesse received a Bachelor's degree from the University of Windsor in 2011.
During his legal studies, Jesse held numerous legal positions, including working as a Student-Attorney at the Washtenaw County Public Defender's Office, and participating in an externship program on Parliament Hill at the Office of the Law Clerk and Parliamentary Counsel. Jesse began working at Lefebvre and Lefebvre as a summer student in 2013. He became an Associate Lawyer upon his call to the Ontario Bar in June, 2016.
Email ›Jesse Dostal PARTNER